Ingersol-Rand 375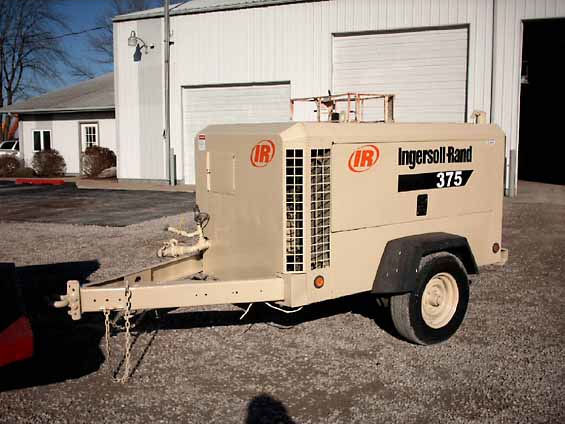 Overview
Ingersoll-Rand portable air compressors keep you productive longer with a unique cool-box design that prolongs component life. Galvanneal sheet metal on the front panel and a new paint process improve corrosion resistance — maintaining the compressor's appearance as well as its resale value. With pressure ratings of 100 – 200 psig (6.9 – 13.8 bar), and capacity ranging between 300 – 425 cfm (8.5 – 12 m3/min), these new models are built with the power you need,whatever the application.
Benefits
■ Electricbrakes with towing lights,
side markers, and reflectors for
additional safety during transportation
■ External, single-point lifting bail for
easy hoisting
■ Heavy-duty "A" frame drawbar with
adjustable-height pintle eye and safety
chains provide easy hook-up to vehicle
and stability while towing
■ Full-length lockable side doors with
pneumatic lift springs provide easy
opening and excellent access for
serviceability
■ Automatic shutdown protection with
indicator lights
– High discharge air temperature
– Low engine oil pressure
– High engine coolant temperature
– Low fuel level
■ 6 kW on-board generator with three
120 V, 20 amp, 1 phase, 60 Hz GFI duplex
receptacles
■ Single or double hose reels with or without
hose or OSHA valves
■ Adjustable-height pintle eye or ball hitch
attachment, 19″ – 33″ in 2″ increments
■ 4-in-1 combo gauge
– Engine temperature
– Volt meter
– Engine oil pressure
– Discharge air temperature
■ Air filter service indicator warning as a light
on the panel
■ Parking brake
■ Dual pressure regulation (not available
on P425 model)
■ Pneumatic third wheel attached to
drawbar in addition to the standard
screw jack with padfoot
■ Pivoting lifting bail for greater security
■ (3) 3/4″ NPT discharge valves
The Instrument Quality Air System option for the 300 – 375 cfm (8.5 – 10.6 m3/min) includes an internal aftercooler that provides an approach temperature of 20° F, as well as a water separator and dual particulate coalescing filters for cleaner, drier air. This system eliminates condensate waste and is available on the VHP300WIR, HP375WIR, and the XP375WIR .
The Platinum Series Warranty is a premium warranty available only on units powered by an Ingersoll-Rand engine. This warranty is available when original Ingersoll-Rand fluids, filters, and parts are used at the prescribed intervals.
• 5-year / 10,000-hour extended warranty on the powertrain, which includes the engine, the coupling, and the  airend. These units are identified with the Platinum Series logo.
• 2-year / 4,000-hour warranty on the starter, alternator, and fuel system.
• Fully transferable warranty to the next owner.
• Single source for all warranty parts and service.
• Fuel / water separator comes as a standard feature in the Platinum Series
Specifications
| | |
| --- | --- |
| Rated Speed | 2,400 RPM |
| Idle Speed | 1,500 RPM |
| BHP @ Rated Speed | 125 |
| Electrical | 24 V |
| Number of Cylinders | 4 |
| | |
| --- | --- |
| Free-Air Delivery cfm (m3/min) | 375 (10.6) |
| Rated Operating Pressure psig (bar) | 150 (10.3) |
| Pressure Range psig(bar) | 80 – 175(5.5 – 12.1) |
| Air Discharge Outlet Size in (NPT/mm) | 1.25 (31.8) |
| Fuel Tank Capacity gal (L) | 60 (227) |
| | |
| --- | --- |
| Overall Length in (mm) | 158.5 (4026) |
| Overall Width in (mm) | 78.1 (1985) |
| Overall Height in (mm) | 68 (1726) |
| Track Width in (mm) | 66.2 (1681) |
| Shipping Weight | 4,173 (1892) |
| Working Weight | 4,593 (2083) |
| | |
| --- | --- |
| Overall Length in (mm) | 104 (2642) |
| Overall Width in (mm) | 60 (1524) |
| Overall Height in (mm) | 56.8 (1443) |
| Shipping Weight | 3,861 (1751) est |
| Working Weight | 4,281 (1941) est |